Post
---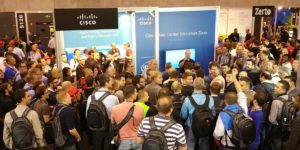 5 Engaging Ways to Drive Trade Show Traffic!
In the crazy world of trade shows I've seen almost every conceivable attempt to draw attendees into booths in my 20+ years as a presenter, writer and consultant. From a random marketing person standing in the middle of the booth awkwardly giving a PowerPoint presentation to a full-blown Cirque du Soleil act outfitted with a flying trapeze.
The former has most attendees simply walk by without a second glance, the latter gathers big crowds but costs a fortune (you've already paid too much for that square of carpet, drayage, flights, hotel rooms, etc.) with no personal engagement or educational benefits to your brand.
Theaters are nice, but can run anywhere from $20-50,000, and they take up A LOT of valuable real estate inside your booth!!! So, when budgets are getting smaller with expectations increasing, what's a trade show manager to do?
Well, you can get the same, if not better, bang for your marketing bucks by employing any number of talent that work on the side of your booth, gather crowds, engage attendees, support your marketing messages and drive that traffic into your booth to view your wares and meet your people: a professional "aisle-draw" presenter.
Here are 5 of the Aisle Draw professionals I recommend:
1)  Trade Show 21® – Trade Show 21 is an aisle-draw trade show presentation that combines the simplicity of a blackjack table with the intricacy of a professional trade show presenter to not only impart messaging but also engage, prequalify and drive attendee traffic into your booth.
Unlike a theater presentation, which takes up floor space and happens only several times a day, the "21" presentation is a virtually non-stop draw in your stand. The professional trade show presenter attracts a crowd, takes them through the game and gives the attendees a call to action to enter the booth to meet and be qualified by your staff. Everyone is familiar with the format of 21, loves to be entertained and is an active participant in the action. Also, dealer and professional trade show presenter Richard Laible is an alumnus with the world famous The Second City theater group and keeps the table fun, interactive and memorable!
How Does It Work? – Each attendee is given 10 chips. They must "bet" at least one chip each hand for a maximum of 10 hands. The person with the highest chip count, tallied on a white board behind the trade show presenter, at the end of the day wins a lovely prize of your choosing (e.g., iPad, InTouch, nice putter, etc.) Every player receives a pack of playing cards with your logo and/or messaging. A player may only play once a day, maximizing the number of new prospects throughout the event.
Where The Messaging Takes Place? – Between each hand, while the dealer is paying off the previous "bets" and while he is shuffling he imparts key messaging points, product information, company information, etc. in a fun and humorous manner ("Don't gamble with your ________, use 'our product!'")
When to Run "Trade Show 21"? – The game runs almost constantly. The dealer works the table between 45-60 minutes straight taking breaks occasionally although never during peak show times when the floor is packed. Often, we have the booth staff fill in during the presenter's break times keeping the "21" table filled with attendees throughout the day.
Clients Hewlett-Packard, SAP, LexisNexis, and many more have utilized "Trade Show 21" at their booths! Click here to see Trade Show 21 in action.
2)  SalesMagic® – Live, interactive and amazing magic creates big branding opportunities for trade show exhibitors. SalesMagic® mixes magic, corporate comedy and interactivity with your brand so your company and its products are remembered in a really big way. Strong visuals highlight the 10-minute presentation that is repeated twice and hour to an audience that is standing in the aisle.

With over 20 years of trade show experience Danny Orleans knows how to attract, engage and impart your information as he's appeared at over 500 trade shows for privately held and Fortune 500 companies. Check out the 44-second video involving 25 feet of rope, a man's jacket and a huge company logo and you'll see why 90% of his trade show appearances are for existing clients at www.corporatemagicltd.com.
3)  What color Is Your House? It's an easy question and one that probably focused your attention on the color of your house.
Why is this important? Your focus was hijacked by the question. The brain reacts in a specific way to questions. It's called "instinctive elaboration" and while the brain is thinking about the answer, it can't contemplate anything else. The brain is focused. And that's when you know the answer. It also gets hijacked when you don't know the answer. Think of it this way…when you're looking around the TV channels for something to watch…often you come across something that makes you pause, not because you're interested, but because there is an action that is not finished and you want to see what happens.
How can you use this automatic response? By offering a presentation at the corner of a booth that is all questions. It's a customized game show where the questions are easy, relevant and they stop attendees in front of your booth.
How can we make it relevant to our business outcome? We stack the deck with questions about the industry, your solutions and a little popular culture. If they are short and catchy, and have visual support (PowerPoint), attendees will stop and give you their attention. We provide multiple-choice answers to make participation easier and to draw their attention to the screen.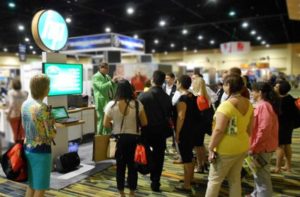 What does it look like? It looks like a customized game show. We provide music and PowerPoint visuals to create visual and auditory interest. We also provide small branded prizes to reward their engagement. But isn't a game off our message? It looks like a game, but it's really a tool to focus their attention on their success. And the stakes are high. The point of the game is to give them enough information to want to spend time in the booth at the demo stations. The games last about 8 minutes then we move the attendees into the booth for more conversations about their business challenges.
Is it that easy? Yes. We can build the questions from your web site, ppt decks or white papers. Now all you should do is contact us and let us put together a proposal. You'll do that, won't you? Sure, you will by contacting William Hall at www.FratelliBologna.com, your engagement expert.
4)  Phone It In – Picture a 10' x 10' booth. There are two or three small demo areas. A 2' x 2' riser is located on the corner. Behind the riser is a small display screen. In front of the riser are 50-75 trade show attendees; crowded around the presenter, holding their phones …. 100% engaged.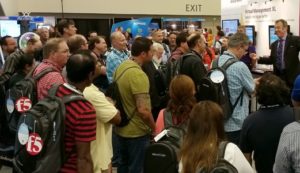 They're focusing all their attention on this person standing on the riser. Instead of telling them to put AWAY their phones, he's just told them to take them out. They're going to be used to play a game. A game called 'Phone it In.' At stake? A valuable prize!
And the rules of the game are simple: Using your phone's keypad, press the number that corresponds to what you believe to be the correct answer to one of ten multiple choice questions. At the end, you will have a ten-digit number on your phone. Simply press 'SEND' and if yours is the first call to get through to our host …. You WIN! That's all there is to it…except that the game is filled with messaging:
a)  Features and benefits of your product or service.
b)  Qualifying questions to help you identify prospects.
c)  Success Stories
d)  Client Testimonials
e)  Industry Awards you've won.
In essence, YOUR story…told in a fun, fast-paced, interactive and interesting way, requiring a minimum foot print and delivering maximum ROI. For more details, samples, and video clips please visit: magnetproductions.com
5)  Headshots – Professional headshots are expensive and everyone needs a new one. Bringing a portable photo studio to your trade show booth where the attendees stand in front of a white backdrop, smile, and capture their image with perfect lighting is a draw that gives back.

Their badge is scanned and their photos labeled while telling them your product messaging. Then, to drive home the point, you send the perfect follow-up email that has their photos and your messaging, everyone opens an email with a photo of themselves! You've captured their leads, given a valuable gift, communicated your messaging, and strengthened a relationship. To learn more about how to bring your booth traffic and we give your and a useful gift your customers will love contact: www.StrongTradeShows.com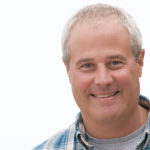 September 26th, 2017 by Richard Laible
2 comments
---
2 Responses